Marin County Measure A and Marin RCD
If you have more questions about the Marin RCD please contact us at (415) 663-1170, or send us an email.
MEASURE A RESULTS SINCE 2013: OVER $100,000/YEAR & MATCHED BY 2M in GRANTS
Improved 6 miles of endangered salmonid habitat by eliminating summertime farm water diversions

Improved streams by installing 9.8 miles of riparian fence

Installed alternative livestock water sources to reduce pathogens in Tomales Bay: 10 solar pumping plants, 9 tanks and 11 troughs equipped with wildlife escape ramps

Installed 2,978 native plants to increase wildlife habitat and biodiversity

Improved 111,300 gallons of water at dairy facilities

Sequestered 37 MT CO2e/year with compost application on 23 acres
PLANNED FOR 2022:
Measure A matching funds will secure a $1M grant from the State Coastal Conservancy to complete 6 riparian projects and design 6 additional projects on ranches.

Complete a dairy water quality improvement project, matched with GHG reduction funds, to save 3,600,000 gallons of water per year and 4,200 gallons in diesel fuel resulting in a GHG reduction of 3,171 MT CO2e over five years.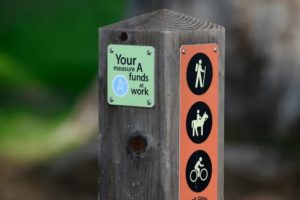 Measure A overcomes ag opponents
Point Reyes Light: Ike Allen, June 15, 2022
Measure A, Marin's sales tax for parks and open space, passed easily at the ballot box again, despite heightened scrutiny. The quarter-cent tax, which pays for the maintenance and acquisition of county parks, open space preserves and protected farmland, first passed in 2012 with little opposition. But opinions on the preservation of farmland have shifted in recent years, and the months leading up to last Tuesday's primary saw targeted opposition to the measure from a group that cast Measure A grants for agricultural easements as public entitlements for private businesses… read the rest of the article here.
Measure A Projects
View the interactive project map in a new tab here.
Read more about each project by clicking on the watersheds!