RSalmon & Other 'Fishy' News
July, 2021: 
Marin Water (formerly Marin Municipal Water District) has a webpage looking at rainfall and reservoir capacity. Click HERE to learn more about current and historic conditions on water supply and precipitation. As well, Marin Water's resources around conserving water and current restrictions can be found HERE.
October, 2017:
Marin supervisors tee up for purchase of San Geronimo Golf Course
By: Richard Halstead of Marin IJ
"Supervisors on Tuesday voted unanimously to issue a notice of intent to purchase the property in a two-step process that involves the Trust for Public Land. More than two dozen people spoke during the hourlong hearing that preceded the supervisors' vote. Many were golfers who fear the loss of one of the county's more affordable golf courses… Evardo Hueso, a San Geronimo parent with two young boys, said, "The value of that space for the community would be tremendous. The value of that ecosystem is something we can't even put into numbers. That is the problem with thinking of this as a business transaction."… Trust for Public Land's Moriarty said, "We know from consulting a variety of experts that golfing has been on the decline including at this course and that the property's most profitable use is not to run it as a golf course — certainly not one that is open and affordable to the public. "Our concern," Moriarty said, "is that if the course were placed on the open market it would not endure as a golf course, would not continue to serve the community and that the community would have no control over its future use.""  Click HERE to read the full article.
September, 2017:
Snorkel Surveys Reveal the Fish World of Mount Tam's Creeks
By Ariel Rubbisow
Our very own Aquatic Ecologist from Marin Municipal Water District, Eric Ettlinger, in the recent Bay Nature article 'A Fish Story.'  "Over the last century, dam building, logging, and development on Mount Tam's flanks greatly diminished what was once extensive freshwater stream habitat: creeks, pools, and rapids overhung with willow, alder, and sedges and filled with fish, frogs, and otters. These activities drove the mountain's five major creeks into deeper and deeper channels, separated them from their natural floodplains, blocked fish migrations and sediment redistribution, and spurred erosion… Coho salmon, steelhead trout, and some stickleback are "anadromous" species, born in a freshwater stream or river, maturing out in the ocean, and then returning to their birthplace to spawn. While salmon and trout build redds in gravel hollows on the creek bottom, male stickleback craft their tubular nests with a combo of sand grains, plant bits, and a glue-like protein excreted from their back ends." Click HERE to read the full article!
August, 2017:
Many creeks run through it
Marin Conservation League just released their most recent newsletter that features Marin RCD's Urban Streams Program, front and center! Nona Davis writes, "When Sarah Phillips, Marin County's Urban Streams Coordinator (USC), spoke to MCL members and other interested attendees at a meeting in late June, she was doing what she has done countless times since September 2014, when she joined Marin Resource Conservation District
staff under a cooperative arrangement with the County. She gave an engaging and deeply informed mini-lecture on the impact of urbanization on Marin's watersheds, streams, water quality, and
habitat, and what we can do about it – how we can protect and restore the network of waterways across the county that are the life blood of Marin's biological diversity and also the source of hazards like flooding. With similar energy and expertise, Phillips has engaged hundreds of homeowners, students, agency personnel and others in their creeks and watersheds, transforming their initial curiosity into knowledgeable stewardship." Click HERE to read the full story. 
Largest Restoration in Lagunitas Creek Watershed
MMWD takes on the largest restoration project in the history of the Lagunitas Creek watershed! Jumping through the hoops of working on state and federal public lands, obtaining all the required permits, being in compliance with NEPA and CEQA, MMWD has managed to carry out an epic instream habitat enhancement project all in the name of boosting federally listed salmonid species such as coho salmon (Oncorhynchus kisutch) and steelhead trout (Oncorhynchus mykiss). The project spans along ten (10) sites on the mainstem of the lower Lagunitas Creek watershed and includes the installation of LWD (large woody debris) in configurations that will shunt flows onto floodplains, engaging the benefits that floodplains provide to salmonids. More food and slower moving water not to mention all the benefits that LWD provides to salmonids, too! Click HERE to read the Marin IJ article about this new state of the art restoration project in west Marin!
Major Restoration in Carmel River Lagoon
In effort to enhance steelhead trout (Oncorhynchus mykiss), Brian LeNeve, president of the Carmel River Steelhead Association has patiently waited nine years for a project to reach construction. The project consists of a series of boulder and tree root wad structure placement along the lower Carmel River in effort to improve federally protected steelhead. The 11 structures are being placed in the lagoon by means of a helicopter! Click HERE to read the full article.
July, 2017: 
Feds OK New Mercury Protections in California Waters in order to inform people about the levels of mercury in fish typically eaten such as; trout, sturgeon, bass, salmon and other fish. Read more HERE.
June, 2017:
What are the effects of ocean acidification on the change of salmonid's ability to sense predators? Well the University of Washington has been looking at the very question and is finding evidence showing an unfavorable change in behaviors. Click HERE to read the article and click HERE to review the study.
May, 2017:
SPAWN is awarded $158,000 to study flows in Lagunitas Creek, below Peters Dam. Click HERE to read more.
Napa RCD's Chinook Salmon numbers looking up~ Click HERE to read more about the outcome of the smolt trap on the Napa River
MMWD and Sonoma County Water Agency are doing their part to enhance salmonid habitat in hopes of increasing populations as mitigation for their dams and reservoirs. Click HERE to learn more about what they're doing in the name of listed salmon.
Learning to Love our Lampreys!
Tri-City Herald's Wendy Culverwell covered a great event that just took place in the Columbia River Basin with the Yakama Tribe and neighboring community. The Tribe has come together to support a population enhancement program for the Pacific Lamprey (Entosphenus tridentatus) where 50 adult lampreys were released in early April, 2017 to help boost numbers. This ancient fish is roughly 450 million years old and is a major element for the Yakama Tribe and many other coastal watershed Tribes. These prehistoric fish help improve water quality during their first 4-7 years as they act as filter feeders, living in the sandy substrate of creek beds. Click HERE to read the full article and HERE to learn more about these amazing prehistoric creatures that are here in Marin!!
January 2017's Flash Flood Impacts to Salmonids
The following is an update from Eric Ettlinger, Aquatic Ecologist with MMWD on January 13, 2017: "The current state of affairs in Lagunitas Creek can be described as a glass-half-full/glass-half-empty situation. Or more accurately, a reservoir-full, streambed-empty situation. By the end of December the coho salmon run was on track to be larger than the parent generation of three years ago and continue the generational improvements we've seen for each of the last five years. But then came the unrelenting storms of the last two weeks. On the positive side those storms filled MMWD's reservoirs and produced the high flows that can create and improve salmon habitats in Lagunitas Creek. On the negative side those flows destroyed many coho redds, washed away some of our salmon habitat structures, and severely hampered our survey work. We've heard rumors of fresh coho out there (and steelhead should be starting to spawn too), but we haven't been able to see them ourselves. The most recent storm raised Lagunitas Creek flows to 4,300 cubic feet per second, which was the third-highest flow in 35 years. In the coming months we'll see if this flood had significant impacts on incubating salmon eggs and/or last year's fry. Previous major floods in 1998 and 2006 resulted in very poor egg survival, and we expect to see relatively few fry again this summer. One-year-old juvenile coho have survived recent large floods successfully, likely by seeking out slow water areas on floodplains.  Ironically, it may be moderate storm events that are most deadly, because flows stay confined in the stream channel and slow water habitats may be hard to find. This summer we'll be enhancing a number of areas on Lagunitas Creek to provide exactly those kinds of slow water habitats. On an optimistic note, the floods this season have risen and receded rapidly, hopefully subjecting coho fry to fast, confined flows only briefly. In late March we'll start counting the surviving smolts as they migrate to the ocean and, one way or the other, that data will contribute to our understanding of how salmon survive floods and what we can do to help."
SF Gate also just published THIS article in relation to how our beloved salmon are doing amidst the recent storms of 2016-2017 titled, "California's Recent Storms are Devastating Endangered Salmon" by Kristin Hanes, January 13, 2017 featuring Eric Ettlinger.
Salmon Status Update: Winter 2016-2017
Marin's Coho Salmon amidst the winter of 2016-2017 are doing quite swimmingly thus far! Between the Aquatic Ecologist for MMWD,  Eric Ettlinger's recent updates and the newest article published in the Marin IJ, things are shaping up nicely for this year. Click HERE to read the full article. Eric states in his December, 2016 spawner report, "Dry weather allowed for spawner surveys to resume this week, following the largest flood in a decade last week. As suspected, many of the redds in Lagunitas Creek were destroyed in the flood, but most of the redds in the tributaries appear to have survived. Spawning continued apace, with 44 new coho redds seen this week, which was essentially unchanged from last week. To date 154 coho redds have been seen in the watershed, including 29 redds reported by SPAWN in the tributaries to San Geronimo Creek. Typically the coho run is 60% complete by this date, putting this year's run on track to reach 250 redds, the long-term average. That would also be an increase over the run three years ago (the parental generation), which is always what we hope for."
Central CA Coast (CCC) Coho Salmon: "Unfortunately the long California drought combined with poor ocean conditions have kept this species teetering on the edge of survival. This year NOAA Fisheries identified CCC coho salmon in its "Species in the Spotlight" initiative as one of eight species most at risk of extinction in the near future." — Charlotte Ambrose with NOAA Fisheries wrote in this recent article published in Fish-Bio. Click HERE to read the full text.
Filtering Toxic Stormwater: A new study was recently released on behalf of Washington State University, U.S. Fish and Wildlife Service, and National Marine Fisheries Service (NOAA) showing that stormwater runoff from urban roadways is so toxic to coho salmon that it can kill adult fish as quickly as 2.5 hours. You can read an article on it from The Seattle Times by clicking HERE or read the full scientific report in draft format HERE.
The Salmon Restoration Federation's 35th Annual Conference is just around the bend! Come to Davis, CA in March, 2017 to learn about a broad range of salmonid and watershed restoration topics of concern to restoration practitioners, watershed scientists, fisheries biologists, resource agency personnel, land-use planners, and landowners. Click HERE for conference details!
Lagunitas Creek Update on Salmonid Surveys from Eric Ettlinger at Marin Municipal Water District, Click HERE.
01/04/16- The New Year is starting off happy on Lagunitas Creek, at least for us biologists. The storms just before Christmas dropped over six inches of rain in the watershed and raised stream flows to their highest level of the season. Surveys documented over 200 coho salmon and 94 new redds since those rains. Last week's redd count (53) was the highest single-week count in a decade. To date we've counted over 400 live coho and 151 coho redds, which already beats last year's totals. High stream flows have allowed salmon to swim into San Geronimo Creek and Devil's Gulch, where we counted 49 and 21 coho redds, respectively. Those are respectable redd counts for an entire season, with roughly a month left in this spawning season. We've even heard reports of good numbers of coho in the small tributaries to San Geronimo Creek, where they've been extremely scarce in recent years.
Some caution should be exercised before celebrating all this good news. We're still a long way from an average run (250 redds), let alone a record run (634 redds). Coho migrated to the ocean in record numbers in 2014, and so far we've seen less than 3% return. We were hoping that a record smolt migration would translate into a record spawning season. And lastly, the hundreds of thousands of coho eggs now incubating in their gravel beds are vulnerable to the kind of El Niño flooding currently predicted. Hopefully, there are lots of salmon that have yet to spawn, and, hopefully, we'll get enough rain to fill our reservoirs but not enough to wash away salmon eggs."
There is a new update to the state of CA's Fish Species of Special Concern. This has been a  a collaborative project of CDFW and UC Davis. The publication includes sixty-two species accounts, a methods section, and scientific references. You can read the publication by clicking HERE. Additional information can be read HERE by visiting UC Davis' WaterBlog where you can stay informed on CA's water, fisheries and overall watersheds.
The Tomales Roach (Lavinia symmetricus ssp.) has recently changed its status to a Species of Moderate Concern. The main rationale for why is that it has a limited range which is degraded by extensive habitat alteration which is a result of water diversion infrastructures and grazing. Click HERE to read about its life history, habitat requirements, distribution and taxonomic relationships.
Board of Supervisors
Sarah Phillips, Marin RCD's Urban Streams Program Manager, reported to the Marin County BOS on July 12, 2016 regarding the USC Program to date, 22 months and running. Click HERE to view the presentation, it begins at the 1 hr 48 min mark.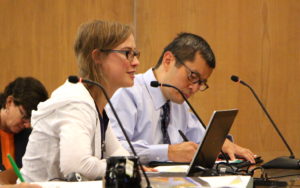 Sarah Phillips, Marin RCD's Urban Streams Coordinator, reported to the Marin County BOS on June 16, 2015 regarding the USC Program to date, 9 months and running. Click HERE to view the presentation, it begins at the 2 hr 10 min mark.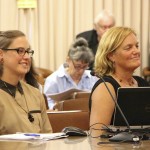 In The Papers
Aquatic Experts Work to Save Marin's Environment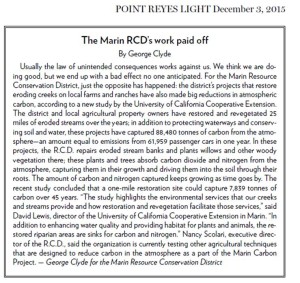 Marin RCD has been taking on Climate Change through its Carbon Farming Program in partnership with Marin's Carbon Project. Read this great article written by George Clyde in the Point Reyes Light December 3, 2015 describing UC Cooperative Extension's recent studies around this scientific effort and the RCD's accomplishments! Click HERE to read the full article.
Civic Center Watershed Restoration Group with Gallinas Watershed Council and Marin County launched two floating islands designed by Floating Islands West into the lagoon in effort to help remediate the pollutants in the waterway. By using specific plants that phytoremediate water and substrate, the islands are a visual reminder of how we can come together as a community to get creative on cleaning up our watersheds! Click HERE to read to full story on the Marin IJ. Supervisor Connolly was there to speak to the project in addition to the founder of Bioneers.
North Bay Trout Unlimited recently conducted a significant project enhancing habitat in Devil's Gulch, a key tributary to Lagunitas Creek in Marin County, California. Devil's Gulch is critical habitat for endangered coho salmon and threatened steelhead populations along the Central California Coast. Their grant project restored woody structure in eight locations along this creek, reversing some of the adverse effects attributable to a history of logging in the area. Read about it in the Marin IJ HERE. To learn more about why adding large woody debris LWD is good for fishery habitat enhancement, watch this video! 
The Marin IJ, Movers and Shakers with Sarah Phillips, Marin Resource Conservation District's new Urban Streams Coordinator, Click HERE
Point Reyes Light, with Sarah Phillips, Marin Resource Conservation District's new Urban Streams Coordinator, Click HERE

West Marin Citizen, with Sarah Phillips, Marin Resource Conservation District's new Urban Streams Coordinator, Click HERE
Press Release about Marin RCD's new Urban Streams Coordinator written by George Clyde, Click HERE
Marin IJ's Mike Prado wrote an article in the December, 2013 paper regarding Chinook and Coho, Click HERE
Watershed Groups E-News
San Geronimo Valley Planning Group's December, 2015 Newsletter with a write up about the Healthy Creeks Workshop organized by Sarah Phillips, Urban Streams Coordinator and MCSTOPPP. Click HERE.
San Geronimo Valley Planning Group's Newsletters, Click HERE
Friends of Corte Madera Creek Watershed Newsletter, Creek Chronicles, January through June, 2015 featuring Sarah Phillips, Click HERE
Watershed Meetings
Marin County's Watershed Program looks deeper into Marin's watersheds with regard to how to adapt to sea level rise as well as how to mitigate flooding. Click HERE to learn more about Marin's Watershed Program's upcoming events, projects, resources, and current data from weather gages.
Novato Creek Watershed Program met on Friday, March 6th from 1 pm-4 pm at Womack Conference room (upstairs) Novato City Hall 922 Machin Ave Novato, CA 94945. Contact Laurie Williams, Marin County's Senior Watershed Planner, at lwilliams@marincounty.org for more information.