What's Happening in Walker Creek?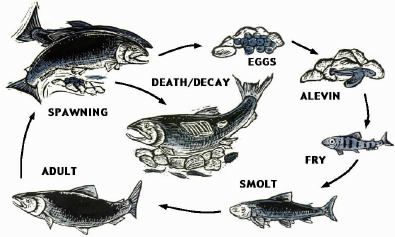 The salmonid life cycle is key to understanding the importance of Walker Creek in the survival of endangered salmonid populations. Source
The Situation
Walker Creek watershed is important for many reasons, one of which is because it supports federally-protected coho salmon (Oncorhynchus kisutch) within the Central CA Coast Evolutionarily Significant Unit (ESU), meaning they're genetically distinct. Coho salmon were first listed under the 1973 Endangered Species Act (ESA) as threatened in 1996 and reclassified as endangered in 2005. They live for a total of three (3) years and spend the first half of their lives in freshwater habitat. Their habitat needs are specific and include a rich, complex stream system with native canopy cover, ample fallen and live wood instream, clean spawning gravels, cool deep pools, oxygen-rich water. They also rely on a steady supply of food which is mostly comprised of benthic macroinvertebrates (BMIs) or aquatic insects that thrive in watersheds with good water quality. Walker Creek is in the spotlight with aspirations to continue improving watershed conditions. This has resulted in all of the resource agencies and partners coming together in hopes to support the return of healthy coho salmon populations once again.
Though the historic population was abundant, today there are few coho salmon remaining. Walker Creek coho numbers, however, have increased in recent years, largely due to restoration efforts which ranchers have undertaken in the last three decades. Over 50% of ranches in the Walker Creek watershed have participated in conservation projects during this time. Walker Creek land managers, your ongoing stewardship is making a difference! 
We would like to better understand where we should focus our restoration efforts with ranchers. In order to do this, we need to understand where fish survival is declining within the salmon life cycle. Fortunately, there are several agencies and organizations (listed below) who are willing to help us understand the science and habitat needs of this species.
The following projects, in addition to research conducted in Walker Creek, will prove vital in understanding reproductive and recruitment success, survival, and potential limiting factors for Walker Creek coho recovery. Partnerships with landowners and local institutions are critical to the success of all of these efforts in saving a species on the brink of extinction. 
As a rancher and land manager, you can continue to help by participating in the projects below.
Dear Walker Creek Rancher, Land Steward, and Manager,
Thank you for your interest and participation in the health of the Walker Creek watershed! Your stewardship is vital to sustaining the ecological health of our soil and water resources. Equally important is your effort to support the biodiverse species who thrive in healthy ecosystems.
Contact Marin RCD staff for more information and/or to get involved in Walker Creek Watershed Projects.
A group of land managers, conservation planners, and technical assistance providers stand in a circle discussing Walker Creek projects.
The Projects
View the interactive project map in a new tab here.
Read more about each project by clicking on its title below.